Instructed by designer Brenda Miller, this series of video lessons gives you a step-by-step demonstration of how to make the Sweet Talk Phone Bag.
Anywhere you can watch a video on your computer or mobile device, you can take this class
Sew in the familiar comfort of your own home.
Make your bag on your own schedule.
Unlimited access. Log in whenever you'd like.
Discussion forum where you can ask questions, and see the questions others ask.
About the Sweet Talk Phone Bag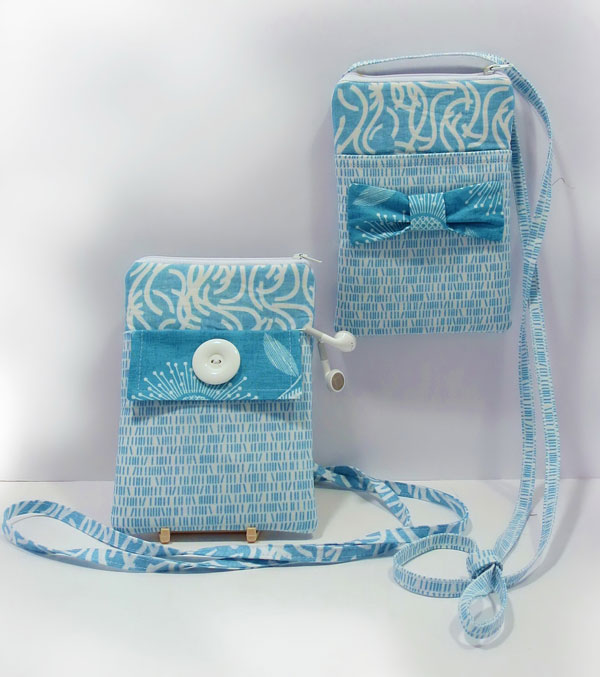 Carry your phone, cash, cards, earbuds and all your other stuff in the two pockets. Your card holder slips into the back zippered pocket. This universal sized cross-body bag can be made with a button or a bow and is fully padded to protect your phone. It also makes a great purse for kids!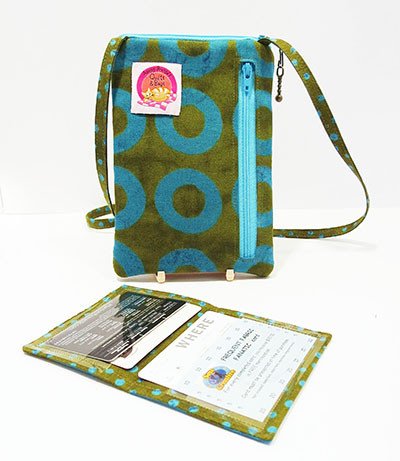 Measures: 7 1/4"H x 5 1/4"W with a 27" strap drop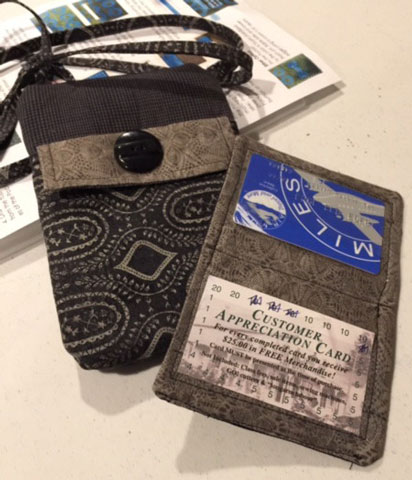 I am going to make some for my girls for Christmas. I love it!

Judith Miller
Just finished making five of your "Sweet Talk Phone bags" for my daughters and niece. They were fun and easy to make and the girls loved them, thank you for designing this amazing bag!

Glenda Dippel
When Brenda contacted me to see if I wanted to make the Sweet Talk Phone Bag pattern we were in vacation planning mode, and my kids were on my mind. This bag looked like the perfect size for a kids' purse, and I had grand plans to make one for myself as well. I got the kids' bags done at least – they love them – and they really are the perfect size! I got to use some fabric that I had stashed "for forever" waiting for the right project – and I'm so pleased with how they came out.

Sherri Sylvester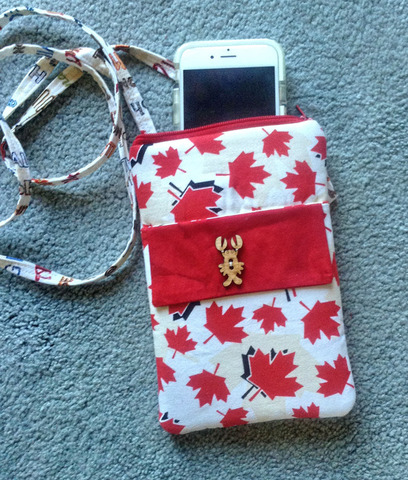 I used the Canadian maple leaf material from the Discover Canada line. I used the flap version and my button is a lobster. Many of my relatives were lobster fishermen and I can never have enough lobsters, just love it!! I will certainly enjoy my carrier and i should not miss calls!!

Jocelyne Sarault
What you need to make this bag

Intermediate Sewing Skills
You don't have to be an expert seamstress, and no previous bag making experience is required, but you do need sewing skills:
Ability to follow basic sewing directions for pinning, basting, and stitching.
Know how to use rotary cutting tools and cutting mats.
Awareness of pressing techniques.

Sewing Tools
Sewing bags involves some heavy seams and a sturdy sewing machine in perfect working order is your best bet. The machine does not have to have any fancy stitching capabilities. It should be able to handle some bulk but certainly does not need to be an industrial machine.
You will need a 90/14 Topstitch needle or a 90/14 Jeans needle.
TOOLS
• Loop turner
• Corner turner
• Removable marking tool
• Small pointed scissors
• Zipper foot, 1/4 " foot
• Hand sewing needle
• Rotary cutting tools: ruler, mat, cutter
No Pattern Necessary
You do not need to buy the pattern separately as the templates used in the bag are provided as a download in the class, along with a full list of supplies you'll need.

Fabric
The Sweet Talk Phone Bag does not require a lot of fabric. Two fat quarters and some scrap material will make the bag, so you can either use up some of your fabric stash or easily find what you need at your local shop.
FABRIC SUPPLY LIST
We recommend using quilting weight cottons.
Color A, Main Color — 18" x 22" (1 Fat Quarter) (or use optional cording)
Color B, Bow or Flap — 5" x 10" scrap
Color C, Accent — 18" x 22" (1 Fat Quarter)
• Foam Stabilizer, fusible or sew-in  — 8" x 18"
• Lightweight Fusible Woven Interfacing  — 6" x 7"
• Medium-weight Fusible Interfacing  — 6" x 10"
• Double-sided Fusible  — 8" x 10"
• Vinyl, 12 gauge — 6" x 10"
NOTIONS
• 2 — 7" nylon coil zippers
• 1/4" double-sided basting tape
• Fabric glue
• Masking tape
• Matching thread
• Optional: 54" of 3mm cording for strap (or) make fabric strap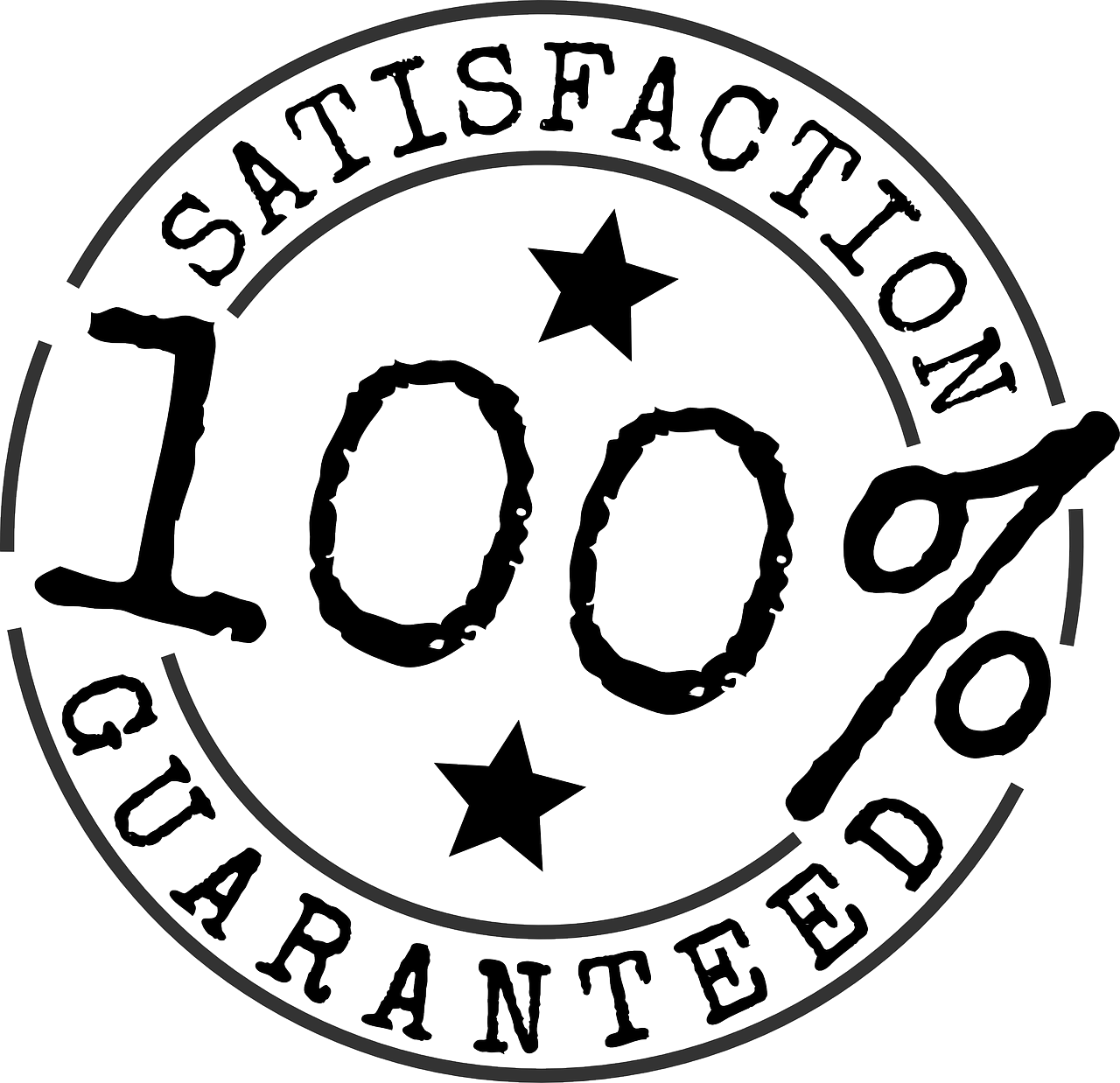 All classes come with a 30 day money back guarantee. If you aren't happy with your purchase, simply request a refund within 30 days.
REGISTER NOW!
Get The Sweet Talk Phone Bag class for just $38.69 CAD