Designer Brenda Miller walks you through construction of the Homeward Bound Bag in this series of 10 video lessons.
Anywhere you can watch a video on your computer or mobile device, you can take this class
Sew in the familiar comfort of your own home.
Make your bag on your own schedule.
Unlimited access. Log in whenever you'd like.
Discussion forum where you can ask questions, and see the questions others ask.
A large external pocket hidden by a panel and interior slip pockets make this softly structured bag nice and organized, yet roomy. With decorative rings, a relaxed side silhouette, and protective bag feet, not to mention a secure zipped closure, this bag is ready to travel in style.
Finished bag measures 12"H x 17"W x 5"D
Homeward Bound will look great with whichever fabric you choose.
You can go subtle, or make a statement, as with this one made for Erika using the Eden collection by Tula Pink Fabrics.
But if you're Canadian, you might want to try it with some special fabric.
This pattern was actually created to celebrate Canada's 150th birthday and may be made with some uniquely Canadian fabric.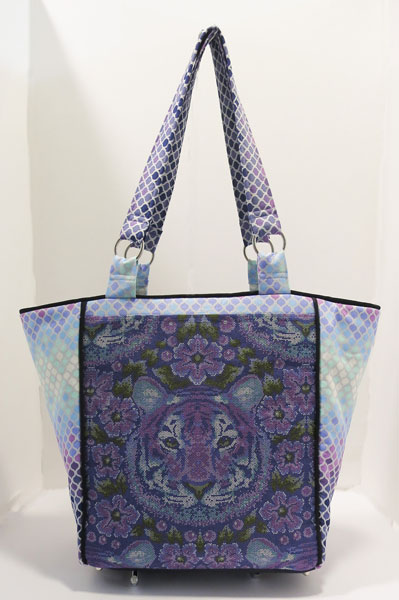 I do love this bag as it's not too big or small but just right!!! Comfy shape to wear, sits nicely on shoulder. Lots of compartments as well. The person I gifted one to uses hers a lot.

Erika Barcza, fabric sales representative
Make Homeward Bound to Celebrate Canada
Show off your city with these nostalgic panels created for Harper's by Robert Kaufman Fabrics. Create the perfect gift for your visitors and for the people who host you on your travels.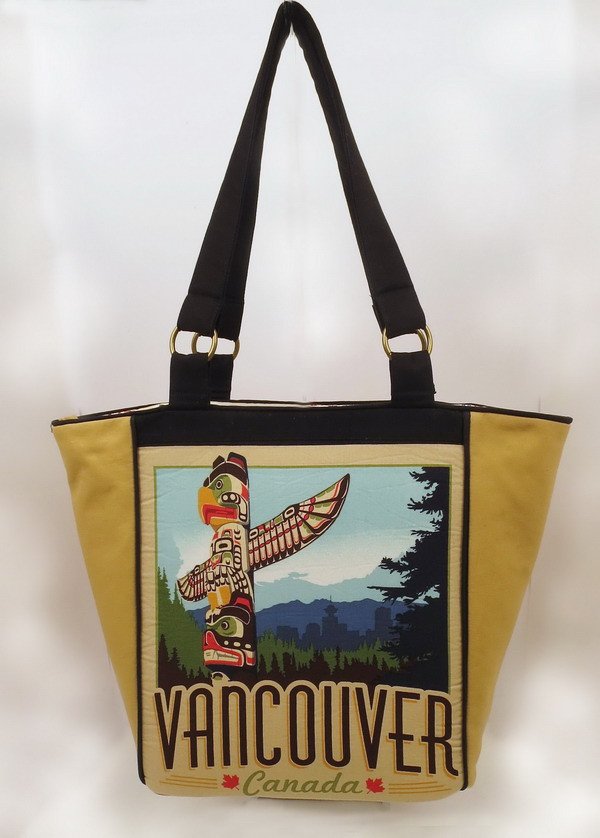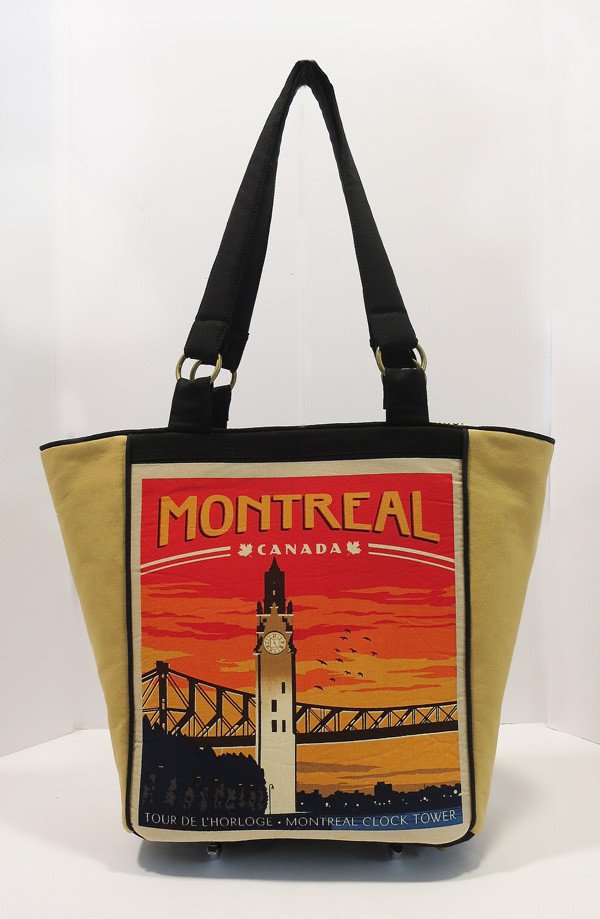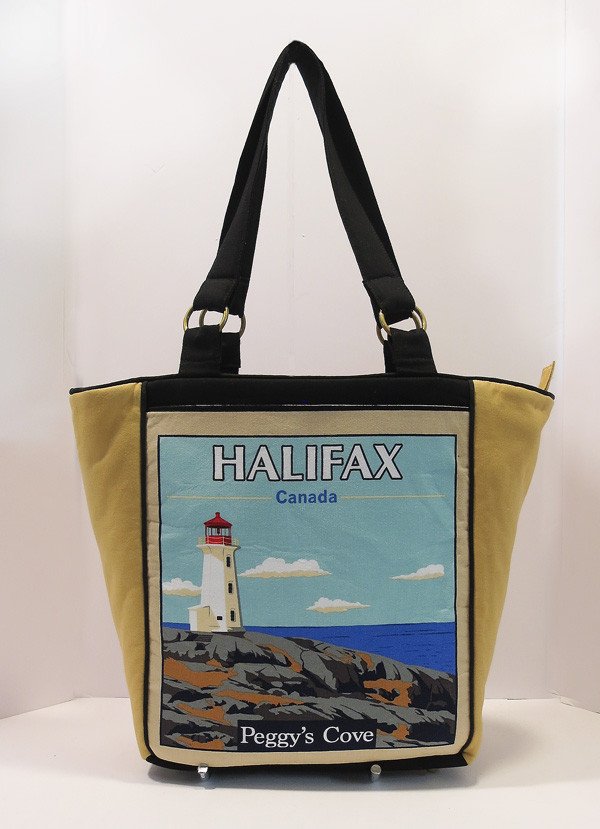 15 Canadian Cities on Two Fabric Panels
The sample bags above show off three Canadian cities, but you may choose from any of the cities included on these two fabric panels. Ottawa, as the nation's capital, shows up on both. This fabric, named Discover Canada, is available for purchase from Among Brenda's Quilts & Bags online store.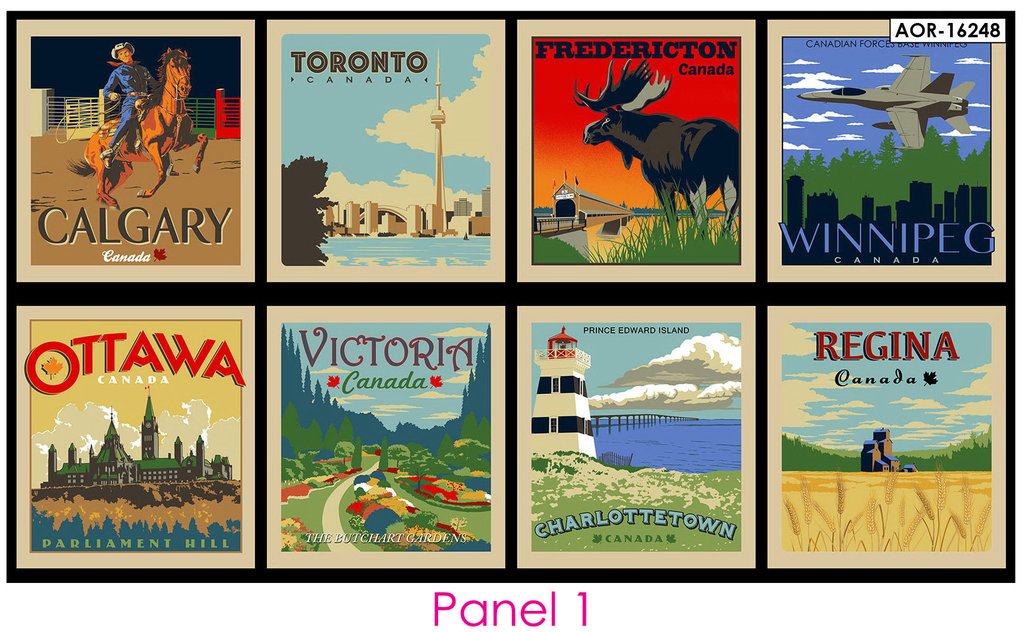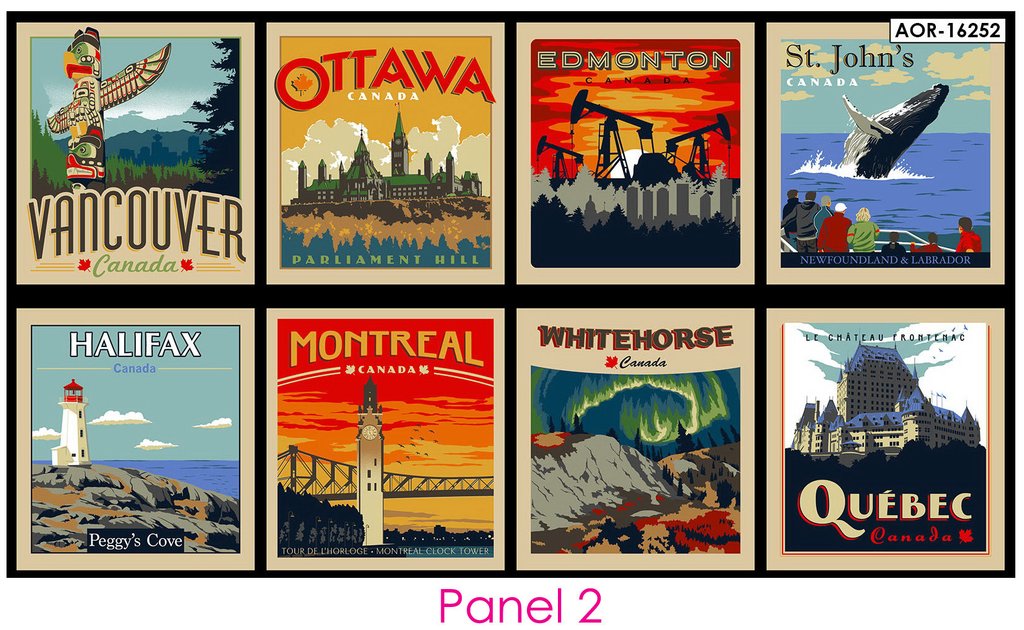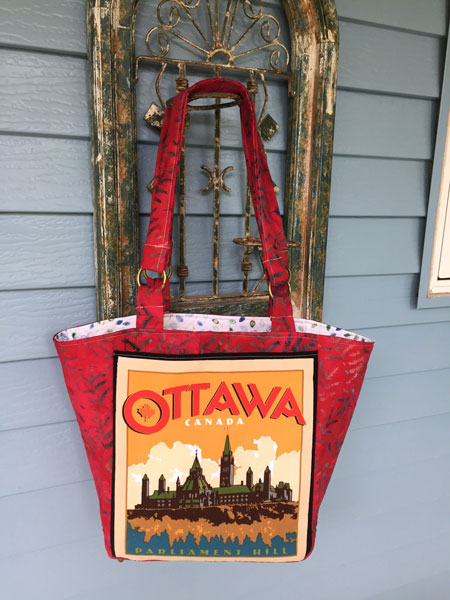 I used all my material and I'm ready to go walking and impress the other walkers with my new bag! The front is Ottawa where I live and the back is Whitehorse a city I visited a few years back on our trip to the Yukon.

Jocelyne Sarault
What you need to make this bag

Intermediate Sewing Skills
You don't have to be an expert seamstress, and no previous bag making experience is required, but you do need sewing skills:
Ability to follow basic sewing directions for pinning, basting, and stitching.
Know how to use rotary cutting tools and cutting mats.
Awareness of pressing techniques.

Sewing Tools
Sewing bags involves some heavy seams and a sturdy sewing machine in perfect working order is your best bet. The machine does not have to have any fancy stitching capabilities. It should be able to handle some bulk but certainly does not need to be an industrial machine.
You will need a 90/14 Topstitch needle or a 90/14 Jeans needle.
TOOLS
• Removable marker
• Matching thread
• Jean-a-ma-jig or Hump Jumper
• Masking or painter's tape
• Hand sewing needle
• 1/4" foot
• Zipper foot
• Point turner
• Rubber mallet
• Awl or sharp pointed scissors
• Rotary cutting tools — rulers, mat, cutter
• Basic sewing supplies
No Pattern Necessary
You do not need to buy the pattern separately as the templates used in the bag are provided as a download in the class, along with a full list of supplies you'll need.
When you sign up you'll receive a discount code to use at our online store for a finishing kit that includes the hardware, zipper, fleece, and stabilizer that's listed below.

Fabric
Use Discover Canada panels, and/or other fabric of your choice.
FABRIC SUPPLY LIST
We recommend using quilting weight cottons. Cutting directions are based on a fabric width of 42" of usable fabric.
• Fabric A, front and back — 3/8 yard. Or, if using a panel you'll need (2) pieces measuring 11 1/2" H x 10 1/2"W.
• Fabric B  — 3/8 yard
• Fabric C — 1/2 yard
• Fabric D  — 3/8 yard
• Lining — 7/8 yard
• Fusible Fleece — 19" x 14"
• Single-sided Fusible Foam Stabilizer — 14" x 44"
• Fusible Stabilizer — 1/3 yard
NOTIONS
• 2 1/2 yards 1/8" piping
• 22" polyester zipper
• 4 bag feet
• 4 — 1 1/4" O Rings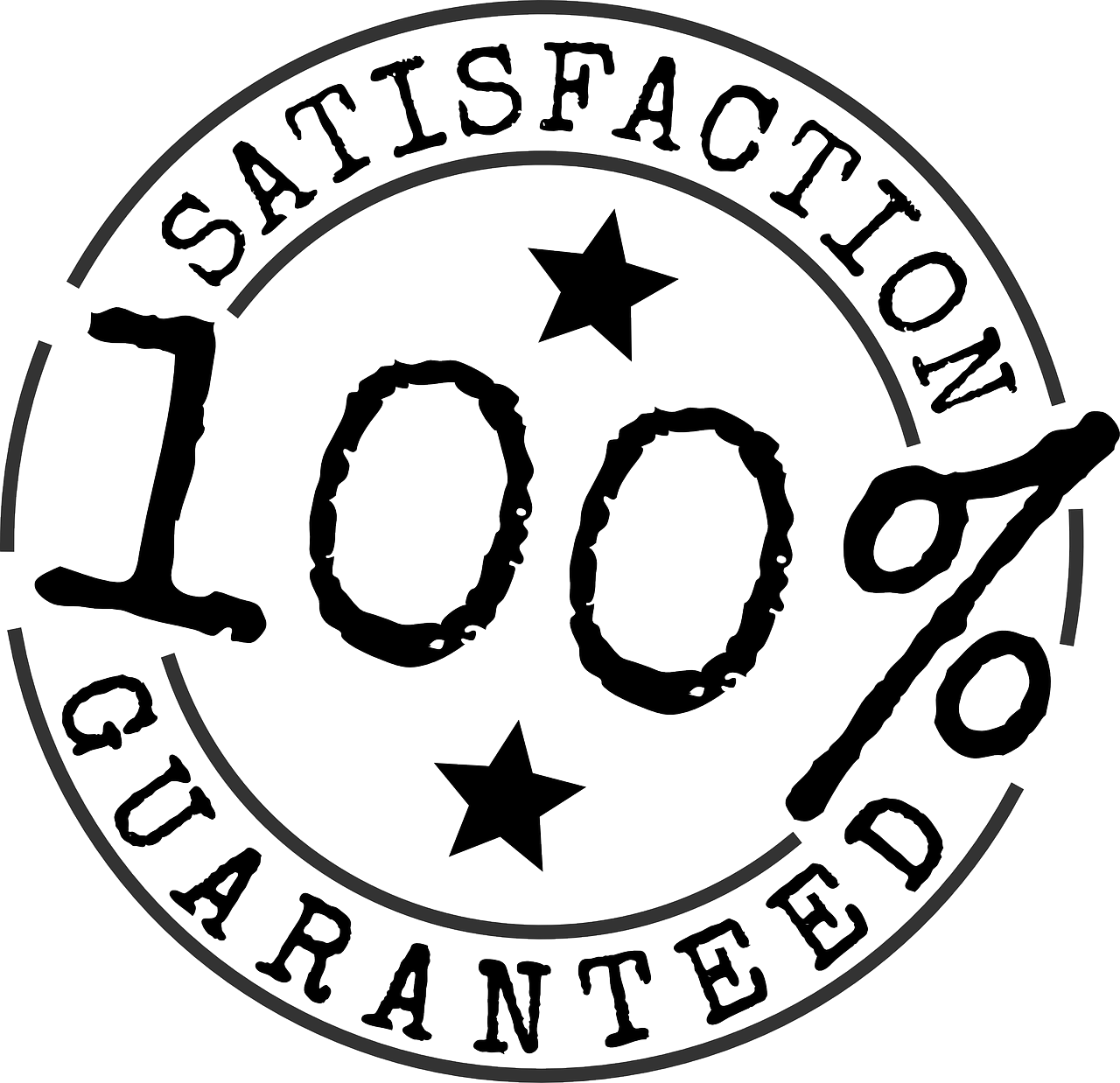 All classes come with a 30 day money back guarantee. If you aren't happy with your purchase, simply request a refund within 30 days.
Get the Homeward Bound class now for just $38.69 CAD
Are you ready to get started?